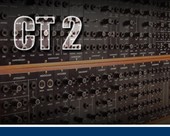 Detunized has released DTS023 – Curetronic Modular Volume 2, a new Live Pack.
The new Curetronic Modular Volume 2 Live Pack introduces a diversified collection of sounds exclusively patched on two CURETRONIC™ modular cabinets. While the earlier released Curetronic Modular Volume 1 Live Pack contains a collection of tempo-synced loops, Volume 2 of this series features 50 multi-sampled instruments with each one basing on its unique set of velocity-layered samples. During the recording process 18 of currently over 30 available hardware modules were used.

The 50 Ableton Live instruments included in Curetronic Modular Volume 2 offer precisely adjusted macro controls that allow for comfortable balancing between the processed timbre of the virtuals and the original sound. By combining the characteristics of both sound domains Curetronic Modular Volume 2 forms a comprehensive overview of Curetronics infinite sound creation possibilities.
DTS023 – Curetronic Modular Volume 2 Live Pack (50 instruments / 450 MB / 1559 samples) is available as an instant download for 6.98 EUR. Subscribers can purchase DTS023 + DTS022-Harmona Forte Live Pack for 4.98 EUR only.
More information: Detunized.com