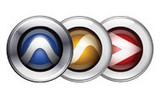 Digisdesign has released version 8.0.1 of Pro Tools, a sound creation and production system for Windows and Mac.
In our ongoing effort to provide you with the best experience possible, Avid has released Pro Tools 8.0.1, a free software update that provides many fixes, enhancements, and improvements, and is recommended for all Pro Tools 8 users.

Experience faster, more streamlined performance thanks to the software's snappier interface. View and work with audio selections more easily through improved selection drawing. And gain more efficiency and stability through enhanced workflows, fixes, and other improvements.
The Pro Tools 8.0.1 software update is available free to all registered Pro Tools HD 8, Pro Tools LE 8, and Pro Tools M-Powered 8 users. Note: the Mac OS X version of Pro Tools 8.0.1 works with Leopard only at this time.
More information: Digidesign