DiGiGrid continues its focus on the I/O market with the launch of its new Desktop series, launched yesterday on the eve of Winter NAMM 2016.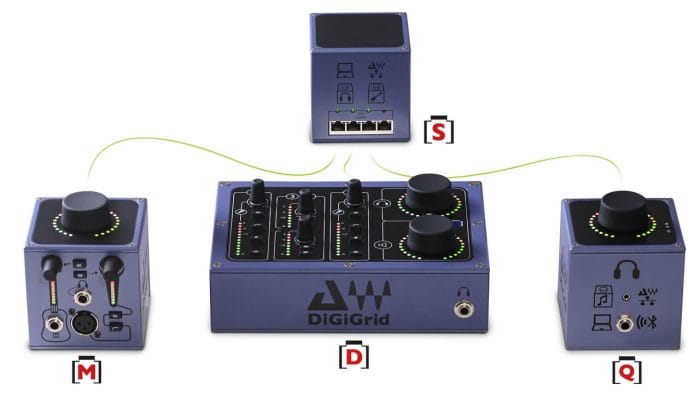 DiGiGrid introduces four new products to the market. The range includes the [Q] Headphone amplifier, [D] Desktop interface, [M] Musician recording interface, and [S] PoE Switch. These stylish new devices are set to pack a powerful punch despite their small size, offering maximum flexibility and ease of use to the recording, monitoring, and creative development markets.

What's really cool about the Desktop series is, it maintains the core design principles of DiGiGrid's Networkable solutions, and fine natural audio reproduction; they also allow for total integration with any other DiGiGrid product. Whether used as a standalone item, or as part of bigger systems, this new Desktop range offers massive functionality and all the benefits of the SoundGrid network system.

The [Q] Headphone Amplifier is a high-end audio interface, and is as powerful as it is sleek. This smart little box, at just 90mm cubed, has been designed to drive headphones at serious volume, and is fully controllable to suit any audio application where high-end audio is required. Coupled with an AES/EBU interface, it allows a direct digital interface loud enough for any drummer.

[Q] features 1/4-inch and 3.5mm outputs, so can accommodate in-ear or headphone product, and has four input options to suit all users: XLR (for professional use), Ethernet/CAT5 (to connect to the SoundGrid Network for true audio networking, should it be required), Analogue (for the consumer audiophile), and Bluetooth, for a fun and fast experience, working direct with your digital music collection.

The [M] Musician recording interface is perfect for any musical environment, and boasts two inputs and two outputs, again, at only 90mm cubed. It is super-easy to use: plug and play, with simultaneous monitoring and recording capabilities through two dedicated I/O. Input one is a dedicated mic/line, and input two is instrument/line, which allows for many musical combinations. Audio capture is also of the highest order thanks to its top quality converters and industry-proven mic preamps; and when listening back, a dedicated high-power headphone output guarantees that classic warm analogue control path in a fun and easy to use package. There's also an optional mic-stand adapter plate, which works with both [M] and [Q].

Designed in much the same way as [M] and [Q], the DiGiGrid [D] is the more expansive option, allowing the user to get even more creative. With four inputs rather than two, and six outputs, [D] provides great flexibility in all applications. Inputs one and two are mic/line, and three and four are line/instrument. There are two outputs with level control – ideal for monitoring – and two further fixed level line outputs. At home, in the studio, or out on location, monitor with headphones or speakers, and enhance your favourite DAW to expand your recording capabilities.

Last but not least is the DiGiGrid [S], the ultimate in fixed networkable power sources. Sleek and compact, in line with the series' style, it features one upstream (non-PoE) port, and four downstream PoE ports, which allows connection to four further DiGiGrid devices. [S] is also Dante compatible, so it's the perfect complement to your growing networked audio system both now, and in the future.

"I knew with this range, our superb design team would achieve the sonic quality and network capability synonymous with DiGiGrid products, but they even surprised me with the ultra-compact footprint and the extremely attractive price point," admits DiGiGrid's Mick Anderson.
The Desktop series will be available from Spring 2016.
More information: DiGiGrid