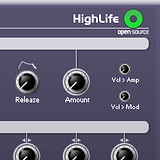 discoDSP has released HighLife R3, a performance sampler with VSTi sampling, sample editor, five built in effects, flexible modulation route and morphable scheme.
HighLife R3 now has greatly improved sfz import, more in line with the official sfz specs. Most sfz files can now be used rightaway without the need to edit out any unsupported features or moving the soundfiles around on the computer.
Changes in HighLife R3
SFZ Parser

Sample path can be relative or absolute to any location on the storage media.
Path names may contain blank spaces.
The header can now be used.
opcode is now recognized.
Comments can be put on the same line with opcodes.

Fixes and changes

The following additional zone parameters can now be modified from the zone editor panel: root key, low key, high key, low velocity, high velocity.
A couple of wave files that were refused by the previous version will now load fine.
Loopinfo will not be used if loopstart > loopend (workaround for some nonstandard wav editors)
When creating loop crossfades Highlife now implements a equal power crossfade instead of the previously used equal gain (linear) crossfade.
Highlife won't crash anymore whenever a sample can't be opened. Instead an error message is displayed and the load process is reverted.
Added Open Source Logo.
About box. (Click on the Highlife Logo to open).

HighLife SFZ Implementation

HighLife supports a subset of the sfz specification v1.0 opcodes. Unsupported opcodes can be included in the file. These will be ignored and should not cause any errors or misinterpretations. Unsupported headers (sfz v2.0 or third party) will be skipped. The parser will jump the next header if it finds an unknown one and ignore all opcodes inbetween.

Supported sfz Opcodes

sample, lokey, hikey, lovel, hivel, offset, tune, pitch_keytrack, pitch_keycenter, transpose, volume, pan, loop_start, loop_end, loop_mode, loccN, hiccN, lobend, hibend, lochanaft, hichanaft, lopolyaft, hipolyaft, trigger, group, off_by.

Supported Sfz Headers
HighLife R3 is available as shareware for Windows PC. A license is 45 EUR / $69 USD (VAT included).
Visit discoDSP for more information.