discoDSP has released Beta 3 of Bliss, a performance sampler instrument that is also able to load and host VSTi instruments for multi-sampling them without any quality loss for Mac, Windows and Linux.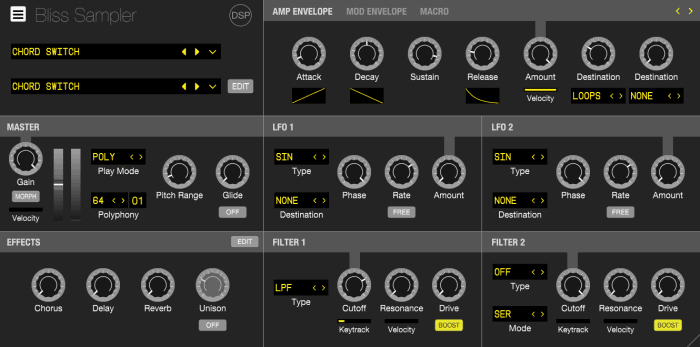 Changes in Bliss Beta 3
Added option to bypass black keys when triggering cues.
Added remind position of zone list width from sample editor.
Added sample freeze now allow one shot with tail (no looping samples).
Added sample freeze now allow selecting sample normalization.
Fixed replace sample now respect midi mapping and other properties.
Fixed problem with single cue triggering when only one trigger is present (sample offset start).
Fixed menu labels capitalization.
Fixed Mac OS X popup menu accelerators display.
Changed opening sample editor in window disabled by default.
Changed unison detune knob disabled when unison is OFF.
Bliss is available for purchase at 50% off until the beta period ends. The final price will be $99 USD / 89 EUR / £59 GBP. Previous customers can download beta 3 at the discoDSP Members Area.