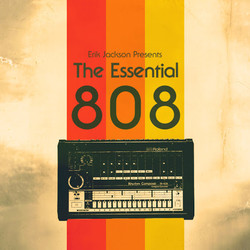 The Drum Broker has introduced Erik Jackson Presents – The Essential 808, a drum sample pack featuring the sounds of the Roland TR-808 drum machine.
Forget all other 808 Drum Kits! The Drum Broker teamed up with sound designer Erik Jackson to introduce an essential 808 Drum Kit designed and built from the ground up.

Erik meticulously sampled his Roland TR-808 through a Avalon 737sp, tweaking and recording every parameter on the classic Roland Drum Machine/Synthesizer. Paying careful attention not to alter the original sound and analog flavor of the TR-808, Erik ensured that he didn't push the compressor too hard during the re-sampling process. Finally Erik created a kit that includes tuned hats, snares, and kicks. Each sample is labeled what note and key they are in.
The sample pack is available from the Drum Broker for $24.99 USD.
More information: The Drum Broker