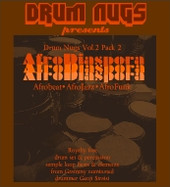 Drum Nugs has announced the release of AfroDiaspora, a collection of 140+ Afrobeat, Afro-Jazz and Afro Soul influenced drum and percussion loops.
Drum Nugs serves up more rhythmic roots with the latest release in the Drum Nugs catalogue, AfroDiaspora.

From Grammy-nominated producer, composer, drummer, Genji Siraisi, AfroDiaspora is a collection of classic old school Afrobeat, Afro-Jazz and Afro-Soul acoustic drum and percussion breaks and grooves. AfroDiaspora contains 143 royalty-free .AIFF audio files categorized by BPM with influences from Fela to Fania.
AfroDiaspora is available to purchase for $20 USD. Owners of Beats & Breaks or LatinTing! can get AfroDiaspora for $10 USD.
More information: DrumNugs