Plugin Boutique has launched a sale on the new Modern Folk Rock Kit, a sample library by Drumdrops featuring the sounds of an 80s Gretsch Kit.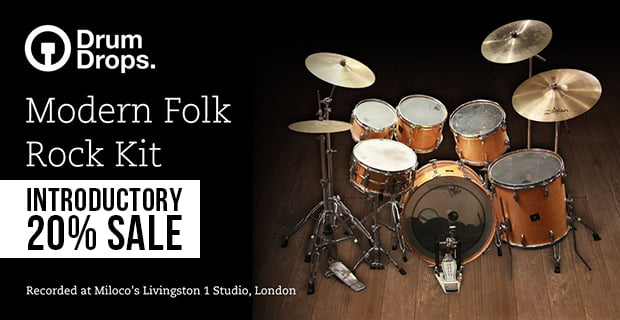 Hot on the tale of the Vintage Folk Rock Kit comes the Modern Folk Rock Kit. The vintage kit was a 60s kit recorded with 5 mics in a dry room while the Modern Folk Rock Kit is an 80s Gretsch Kit, close mic'd and recorded in a brighter live room. Once again we used the engineering skills of the legendary engineer / producer Phill Brown (Laura Marling / John Martyn / Rolling Stones). To direct us on the sound of the kit we used Folk specialist drummer Martyn Barker (Rufus Wainwright, Richard Hawley, Katherine Williams) who once again sampled the kit using sticks, hotrods and brushes.

Phill close mic'd this kit as a contrast to the 5 mic process used on the Vintage kit. Mics used were classic drum mics – AKG D112 on the Kick, Shure SM57s on the Snare, Sennheiser 421's on the toms, KM84 on the Ride and Hi-Hat, Coles 4038's as overheads and two room mics – a Sony C48 and Neumann U89. These pick up the real ambience of this room. All of the mics were recorded through the SSL G-Series mic pre's and recorded straight into Pro Tools.

The kit we used for this was a Gretsch Maple 4416 Kit. It comes with three rack toms and a floor tom, two snares – a Ludwig 400 and a Ludwig Brass Shell owned by Martyn. Cymbals were a combination of Zildjian and Paiste and we also include some tambourine and shaker articulations.
The Vintage Folk Rock Kit is available in various formats, at 20% off until January 31st, 2017.
More information: Plugin Boutique