Drumdrops has announced the release of the Vintage Folk Rock Kit mixed by Phill Brown in five different packs.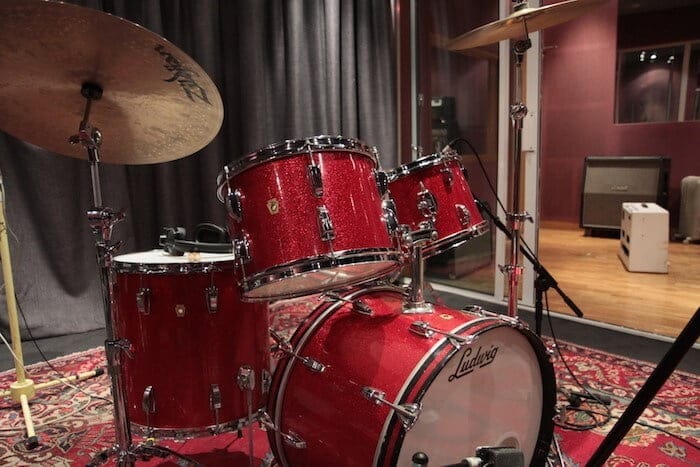 The kit used was a vintage 1966 Ludwig Hollywood kit and it was setup and played by specialist Folk drummer Martyn Barker (Rufus Wainwright, Richard Hawley, Katherine Williams)

For the sound, Phill Brown (John Martyn, Bob Marley, Rolling Stones, Talk Talk, Led Zeppelin) used his years of accumulated knowledge and went back to the time of the 60s when he was based at Olympic Studios. Phill's idea was to create a 1960s drum sound with a modern twist. Instead of positioning the microphones close to the kit he wanted to capture a natural drum sound and record the 'dead' room at Livingston Studios. He used only five microphones on the kit: one on the kick, the snare, two kit microphones placed around the kit, which provide a surprisingly good stereo picture, and a mono overhead. All of the mics were recorded through API mic pre's.

This vintage 1966 Ludwig Hollywood kit consists of a 22″ x 14″ kick drum, 13″ x 9″ and 12″ x 8″ rack toms and a 16″ x 16″ floor tom. The snare used was a 1967 Ludwig14″ x 5″ snare. Cymbals used were Zildjian Constantinople 14″ hi-hats, a 20″ flat top ride, a 17″ medium thin crash and an 18″ K Custom Dark crash. The kit also includes a shaker and tambourine.
Vintage Folk Rock Kit features
For one month only customers can use the voucher code vintagefolk20 at checkout to receive 20% off any of the Vintage Folk Rock Kit packs. The BFD pack and Kontakt 5 packs will be following soon.
More information: Drumdrops / Vintage Folk Rock Kit