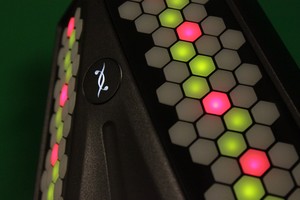 Dualo has announced a crowdfunding campaign for its dualo du-touch instinctive and comprehensive instrument based on a new layout of notes.
The du-touch dualo is a new musical instrument we have developed for music professionals as well as amateurs and non musicians. It is equipped with a new layout of notes called "the dualo principle". This most intuitive arrangement allows you to see and understand music in a better way. You don't have to know notation to play music!

On a dualo keyboard, the notes that sound well together are put next to each other. As a result, you can find notes directly with your fingers and have fun very quickly. As a matter of fact, musical things such as chords or scales are represented by simple shapes easy to remember.

The dualo keyboard is very visual and you can take it in hands in no time. You can play all kinds of music on this keyboard with virtuosity and great ease.
Dualo has already reached its goal of raising 10,000 EUR.
Until July 24th, 2013, backers can still join the funding project and get various rewards, including the possibility of renting an instrument and pre-ordering a dualo du-touch, delivered with all its accessories for a special price of 890 EUR.
More information: Dualo