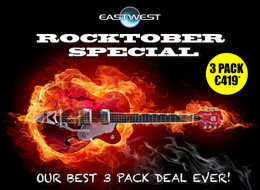 EastWest has announced the Rocktober Special, a chance to save 53% off the individual retail price of any 3 EastWest/Quantum Leap virtual instruments in October.
The standard edition of the ROCKTOBER PACK features MINISTRY OF ROCK, GOLIATH, and FAB FOUR. If purchasers have one or more of the standard selection, they can change any or all of the 3 virtual instruments and still get more than 53% off the retail price. The product selection may increase the overall price.

Sound on Sound Magazine called MINISTRY OF ROCK "a screeching, howling, booming, clanging, clattering, bashing noise-fest that will fool your neighbors into thinking you have a tame death-metal band lurking in your studio". MOR is a huge modern day rock toolkit that covers a myriad of styles that's perfect for songwriters and composers.

GOLIATH is a massive virtual instrument that includes over 180 instruments and over 600 patches. It features Drums, percussion, guitars, keyboards, pianos, orchestra, choir/vocals and more. GOLIATH is a Swiss army knife of songwriting/composing that you will reach for time and time again.

Inspired by the signature sounds of the Beatles, the MIPA Award-Winning FAB FOUR includes authentic and rare acoustic and electric guitars, basses, drums, keyboards, stringed and other misc instruments, all played through and recorded on the same kind of vintage equipment used at Abbey Road Studios by Beatle's engineer KEN SCOTT and EASTWEST multiple-award winning producer DOUG ROGERS.

The ROCKTOBER PACK can be customized to suit a customer's individual needs. Eligible products include Quantum Leap Ministry Of Rock, EW/QL Goliath, EW Fab Four, EW/QL Pianos, Quantum Leap Gypsy, Quantum Leap Ra, Quantum Leap Silk, EW/QL Symphonic Choirs, EW/QL Symphonic Choirs Bundle, EW/QL Symphonic Orchestra, Quantum Leap Stormdrum 2, Quantum Leap Stormdrum PRO Bundle, and Quantum Leap Voices of Passion. Any combination can be built at over 53% off the retail price.
The Rocktober Pack is available until October 31, 2010 for $595 USD / 429 EUR. Custom packs are hand assembled and shipped in one package, usually ship within 2 business days.
More information: SoundsOnline / SoundsOnline Europe