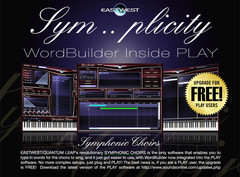 EastWest has released a significant upgrade of their PLAY software that includes the long awaited SYMPHONIC CHOIRS "WordBuilder Inside PLAY" upgrade.
EASTWEST/QUANTUM LEAP's revolutionary SYMPHONIC CHOIRS is the only software that enables words to be entered into WordBuilder for the choirs to sing, and PLAY 2.1.1 makes SYMPHONIC CHOIRS a lot easier to use, with WordBuilder now integrated directly into the PLAY software. No more complex setups, just plug and PLAY!
The PLAY 2.1.1 upgrade is FREE for current PLAY users. For customers using the previous NI version, the upgrade to the PLAY version with WordBuilder inside is $99/€75.
The PLAY 2.1.1 update should be installed by all PLAY users, regardless of which PLAY product(s) they have, there are other performance and maintenance updates included also.
More information: SoundsOline / SoundsOline Europe