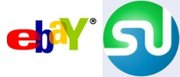 Auction site eBay is paying $75 million to buy social web discovery service StumbleUpon.
eBay senior director Michael Buhr said:
StumbleUpon is a great fit within our goal of pioneering new communities based on commerce and sustained by trust. StumbleUpon's downloadable toolbar provides an engaging and unique experience to its users, but it is the similarities in our approaches to the concept of community that make it such a compelling addition to eBay.
But… why? The only reason I can think of is that eBay sees opportunities to put auction links in StumbleUpon results or incorporate eBay links in the StumbleUpon toolbar. And I don't think the SU community would appreciate that.
Geoff & Justin from SU in a blog post:
We also want you to know that not much will change around here. We'll be running StumbleUpon separately within eBay Inc., and we'll still be focused on developing features based on your feedback.
That's comforting!
Link via Business Wire