Elektron has released substantial firmware upgrades to partner the new-look Analog Four MKII analog synthesizer and Analog Rytm MKII analog drum machine, which were announced earlier this week.
These upgrades extend all the way back to the MKI versions of the machines (and Analog Keys) for many features, meaning there are plenty of music-making bonuses for everyone.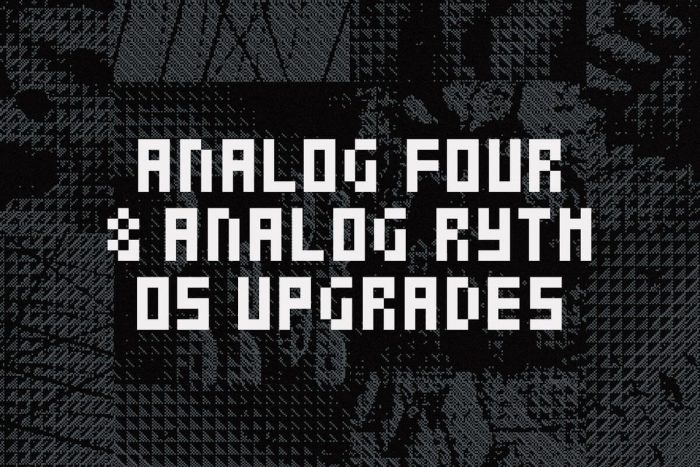 The firmware upgrade brings Class Compliant USB Audio (MKII only), step recording mode, trig probability and preview, improved sample and sound management, and more improvements and fixes.
Class Compliant USB Audio is now available on the Analog Four MKII and Analog Rytm MKII. Connect to a compatible phone, tablet, or computer, and record or process your audio easier than ever before. Add software superpowers via apps to give you countless possibilities: Parameter automation, bi-directional audio processing, audio recording, MIDI sequencing & sync, and that's just the start. More modulation, more LFOs, more magic.

Step Recording comes to the Analogs! Fresh from its splashdown on the Digis, the machines can now input notes into the sequencer step by step. For Analog Rytm users, you can even input multiple tracks simultaneously. On Analog Four, things stay tasty allowing you to input chords per step. Flex the feature's power to the max by controlling other gear using Midi, CV, and Gate!

The Analog Four and Analog Rytm now have the power of Trig Probability in their arsenal. With great power comes controlled unpredictability. Take a pattern, take a chance, and see where you go!

Trig Preview on the Analog Four and Analog Rytm lets you beat the pattern to the punch. Preview individual trigs quickly and easily whenever you want, keeping you ahead of the track and never missing a step.

Keeping your Analog Rytm and Analog Four organized is now easier than ever. Improved sample and sound management lets you remove whatever you're not using, giving you more room for new sounds and new music. Get purging!

You also get access to the sweet new factory content released with the new-look MKIIs, for all machines except Analog Four MKI & Analog Keys. For a full list of improvements and bug fixes – check the release notes.
The Analog OS firmware can be updated with Overbridge 2.0.41, which has been released today to support the new firmware.
More information: Elektron