Elektron has announced that the Octatrack MKII performance sampler is now shipping.
The MKII comes with new high-quality back-lit buttons, hi-res encoders and a professional contactless crossfader, ensuring operational reliability in the most demanding environments.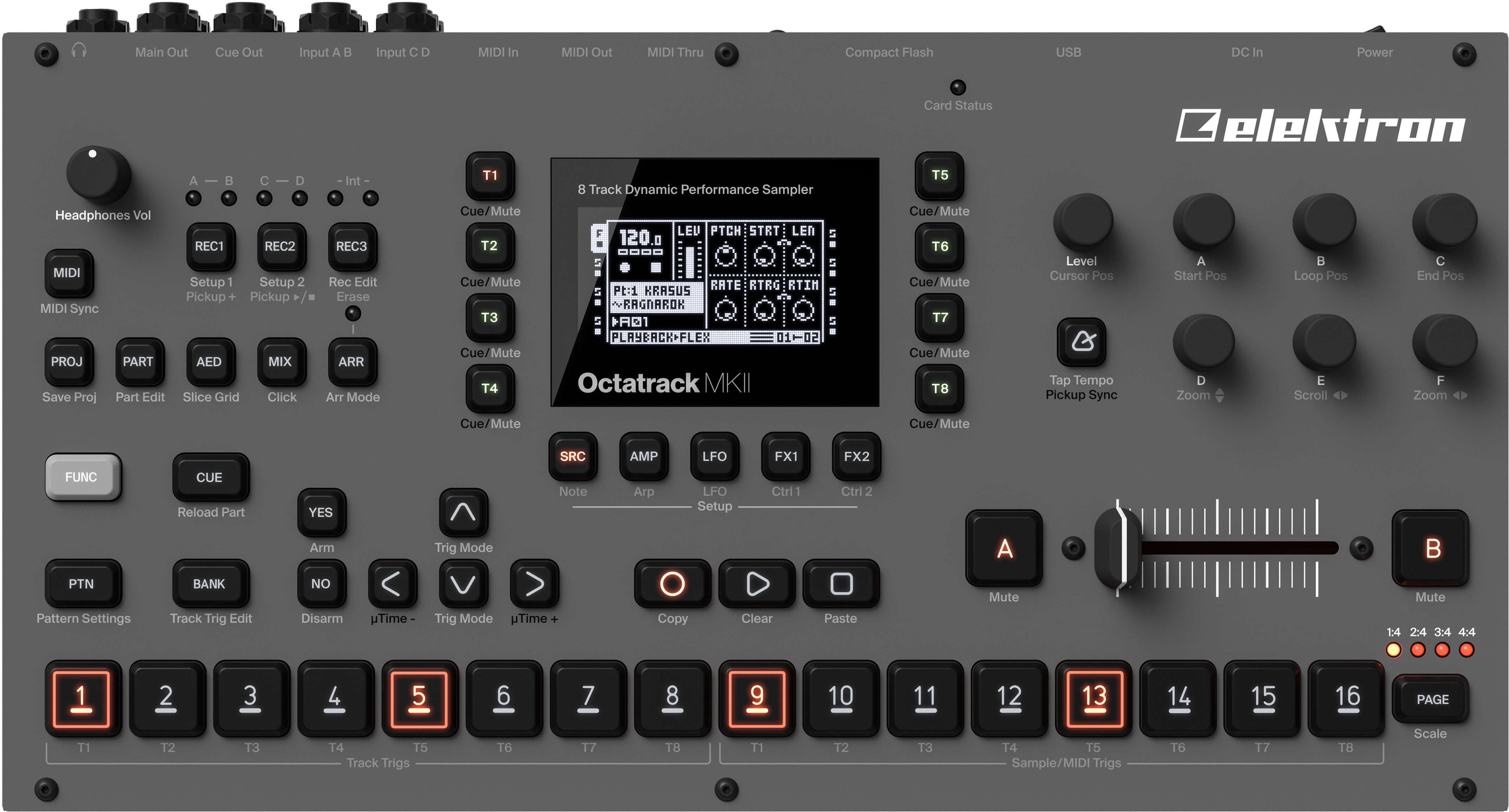 The new Octatrack also has an ultra crisp OLED screen and an increased count of dedicated buttons, each with a distinct purpose, contributing to the improved MKII user experience.
Octatrack MKII is an eight track performance sampler and sequencer, designed for both live performers and studio producers.

Thanks to a clever combination of internal tracks, MIDI tracks, in- and outputs, and sequencer tricks like conditional trigs, Octatrack MKII is perfect as the centerpiece in any rig.

The sample engine, which features time-stretch and pitch-shift in real time, is capable of radically transforming and reshaping samples in an instant.
Octatrack MKII features
8 stereo audio tracks.
8 dedicated MIDI tracks.
Instant stereo sampling.
Real time sample time-stretch & pitch-shift.
2 × insert FX per audio track.
3 × LFO per track.
Live friendly Elektron sequencer.
Individual track lengths and tempo multiplier.
Parameter locks and trig conditions.
Contactless performance crossfader.
Crisp 128 × 64 OLED screen.
Hi-res encoders.
Durable back-lit buttons.
CompactFlash card storage up to 64 GB.
1 × ¼″ headphones output.
2 × ¼″ impedance balanced main output.
2 × ¼″ impedance balanced cue output.
4 × ¼″ balanced external input.
1 × USB 2.0 High Speed port.
MIDI IN/OUT/THRU ports.
W340 × D185 × H63 mm (8.5 × 7.2 × 2.5″) including knobs and rubber feet.
Weight approx. 2.3 kg (5 lbs).
Fully compatible with Octatrack MKI projects/data.
The Octatrack MKII is available for purchase for $1,399 USD/1449 EUR.
More information: Elektron / Octatrack MKII