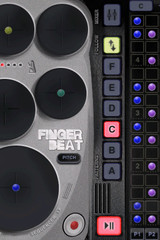 Elionze has recently released FingerBeat, a virtual instrument designed for creativity & self-expression inspired by retro synthesizers & samplers.
FingerBeat is a virtual beat-box instrument for the iPhone and iPod Touch that brings beat and loop creation straight from your mind to the tips of your fingers. Included, are cutting-edge sound sets for beat-driven styles (techno, hip-hop, dubstep, etc.) that you can play by tapping straight on the iPhone' screen. Just keep the rhythm!
FingerBeat features
Step Sequencer: Making beats is easy as drawing and tapping boxes to generate unique sequences. Each color is associated to each channel type of pad.
Pitch Keyboard + Editor: While recording, the notes you play will immediately appear in the editor. Its easy to make changes and draw free-form to create / delete notes using your finger.
Multi-Touch Mixer: FingerBeat is built for user experience and live performance. Mix it in real time.
Pocket Sampler + Kit Edit: Record any external sound using the built-in microphone. Load any existing sounds in the library to mix-and-match you own kits.
Perform & Sing: Once you have programmed some patterns, connect to headphones and hear yourself sing over your musical creation. Conveniently change patterns with your thumb for live performance.
Low latency audio engine.
x8 Pads/Channels with Volume, Balance Mixer + Mute functions.
x6 Pattern blocks per Kit.
x6 Themed Skins + User Photo option using iPhone camera or gallery.
x16 Kits "x8 User".
Built in sounds + kit templates.
16bit Sampler using internal microphone.
Ability to use microphone with external speaker source (designed for iPhone & iPod Touch 2nd generation. Works on iPod 1st gen but requires microphone).
Demo Patterns.
FingerBeat is available for purchase from the iTunes App Store for $3.99 USD.
More information: FingerBeat