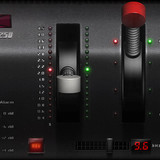 EMpTy Room Systems has announced the release of version 2.0 of EMpTy 250, a reverb effect plug-in for Windows.
The original EMT-250, the reverb is based on, audio lovers praise for its warm and lush reverb. ERS identified its specifics and reinvented the sound in a modern technology tool. The warm welcome of the pilot and enhancing quality since, now results in this new commercial release.

Through a simple concept download –and-pay-plug in-and-play, the reverb can be used in all the common programs that support the VST format like Nuendo, Cubase etc, without internal DSP-cards, external boxes or dongles are necessary. The AU /MAC VST version is under development, this version will use ilok protection and will need the ilok dongle.
Changes in ERS EMpTy 250 v2.0
New and smaller User interface.
A carefully designed 14 pole input/output filter combined with a steep sweepable highcut filter.
An improved classic algorithm that is more transparent and has improved mono compatibility.
An extra modern algorithm. This setting is specially build for melodic instruments. It sounds a bit repetitive on percussive sounds, but on guitar, piano etc it sounds much richer then the vintage algorithm.
5.1 sound support , with volume control on every channel.
A new front/back switch. In 5.1 mode it also reverses the front and surround channels.
An installer that helps with installing and uninstalling the plug-in. The installer will add the plug-in to the VST directory and will create a shortcut for the manual.
Presets and a presetshandler, so it is easier to start working with the EMpTy 250.
Numerous bug fixes.
EMpTy 250 is available to purchase for 149 EUR. The update for version 2.0 is free for existing v1.0 owners.
More information: EMpTy Room Systems