Cinematique Instruments has announced the release of two new Ensemblia instrument libraries for Native Instruments Kontakt.
Ensemblia is a complex 7 track multi-beat engine equipped with hundreds of beats and single sounds. It allows you to create a wide range of rhythms with ease, and by using its Live FX feature you can shape the beats in real-time.
Ensemblia 2 Industria
Industria was created with the sounds of tools (hammers, wrenches, metal bars, saw blades, cans and tins), plates, drawers and bars of a huge kitchenette made of iron, as well as sounds from a gigantic telescope and the corresponding labs and noises of electric machines. Lastly, various software and modular synths were used.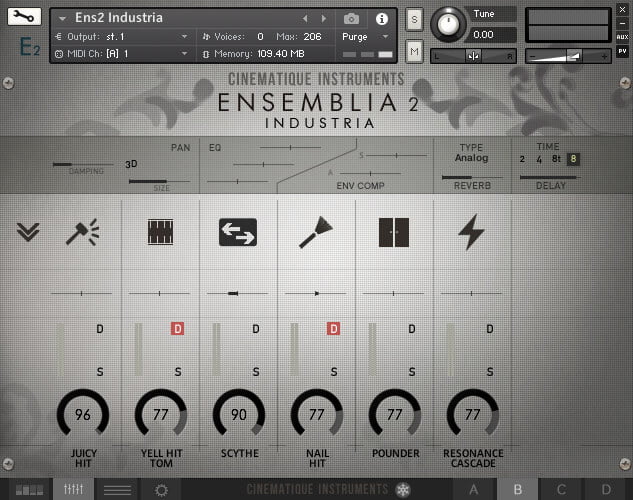 Aside from powerful and blasting beats you can just as easily create tiny metallic phrases as well as unique organic percussion. You can easily produce rude and raw drum loops as well as noisy steam textures. You can even generate industrial and technoid sounding beats or shuffled house loops mads from domestic utensiles.

As you see, Ensemblia2 Industria is organic, unique and powerful tool for your creative vision.
Ensemblia 2 Industria features
200 predefined patterns in 8 categories: Slow Side, Reduced, Beats (from Light to Shuffled), Straight Forward, In da face, distorted and cacophony.
123 single sounds in five categories: Metallic, Forge, Industrial, Machines, Miscellaneous.
Includes 15 strokes, 23 deep and low, 13 mid sized, 38 bright, 1 brushed, 4 eroded, 31 movings, 24 effex and 4 glitch sounds.
Ensemblia 2 Elektronika
For the Elektronika library, Cinematic Instruments captured sounds from various drum machines such as the Roland TR-808, TR-909 and CR-78 and several vintage preset machines.
It also features sounds from synths such as the Roland Juno 60, Prophet 5, Korg MS-20, Moog Minimoog and modular synths, and various sound sources were also edited and manipulated with modular and software sound processors.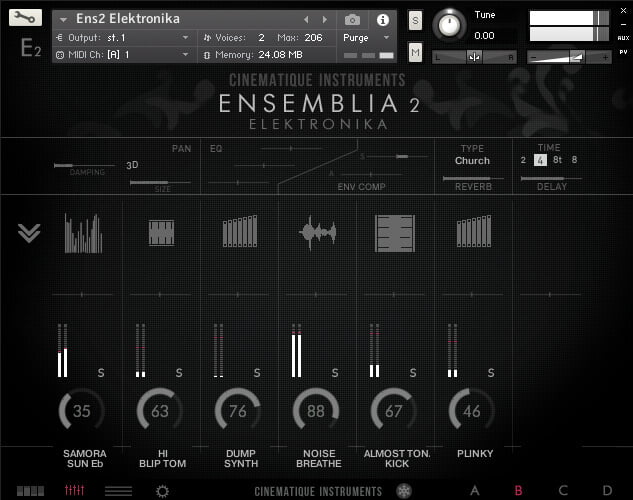 It was very important for us to keep Elektronika versatile and cover a wide range of musical styles.

Beside the major genre of Electronica you get sounds and beats corresponding to Downtempo, Minimal, TripHop, House, Futurebass, Techno/ Trance and Drum n Bass/ Breakbeat.
Ensemblia 2 Elektronika features
300+ beats separted in 10 different genres: Downbeat, Electronica, Futurebass, Mininmal, House, Tech Trance, Jungle ir DnB, Weird and Essentials.
215 single sounds in five categories: Acoustic, Machine, Processed, Distiorted and Glitch n Noises.
Includes 26 hihats, 32 bass drums, 39 snares, 23 tom toms, 21 claps, 6 crash and 12 ride cymbals, 6 shaker, 7 blips, 20 noises, 9 glitch sounds, 14 tones, 8 textures and 6 noisetones.
Ensemblia 2 Industrial and Elektronika are available for 75 EUR and 55 EUR, respectively. Requires full version of Kontakt 5.6.8 or higher.
A bundle of all three percussive Ensemblia instruments costs 195 EUR.
More information: Cinematique Instruments