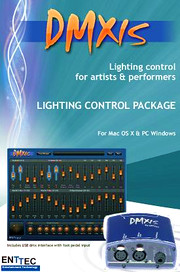 Enttec has released version 1.0.4 of DMXIS, a flexible, easy to use lighting control package, specifically designed for live performers.
DMXIS is the easy way to create exciting live light shows with your Mac OS® orWindows® based computer. DMXIS was designed specifically for live performers who want to run an automated light show while performing on stage. The hardware is incredibly easy to connect up, and the software extremely simple to learn and operate, while being flexible enough to control modern intelligent light fixtures.
Changes in DMXIS v1.0.4
New Rename Fixture feature.
Autorun Bank now plays from the first preset when a new bank is selected.
Improved start-up time of DMXIS standalone program on Windows.
Improved reliability of the footswitch input (Some footswitch presses were not being registered on slower host computers).
Fixed Bank Tempo feature (Tempo was not restored reliably on all banks).
Improved reliability of preset selection (If you selected Bank1/Preset3, then Bank 5/Preset 3, the second preset would not always load).
Fixed Footswitch Settings window (settings were not stored correctly).
DMXIS is available at local Enttec dealers for 189 EUR.
More information: Enttec