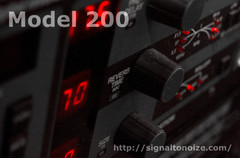 Eric Beam has released a free collection of impulse response samples from the Lexicon M200, a digital effects processor.
All Impulses have been captured via pristine analog A/D D/A @ 44.1khz.
Lexicon M200 Impulse Set features
50 impulse files containing Hall, Plate, Chamber, Rich Plate, Rich Split, & Inverse Room Programs.
Model: Lexicon M200
Impulse capture method: Sweep
I/O: Analog
Format: 24bit 44.1k WAV
The Lexicon M200 Impulse Set is available for download from the Signaltonoize website. Donations are appreciated.
More information: signaltonoize.com