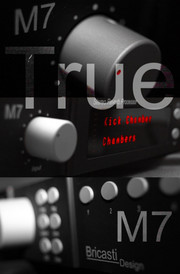 Eric Beam has released True M7, a collection of impulse responses sampled from a Bricasti M7 stereo reverb processor.
Not all IR sets are created equal. Like true stereo hardware, true stereo IRs process both the Left & Right channels independently for a more accurate & detailed emulation.

Goal = Capture True Stereo IR programs from the "legend in its own time" Bricasti Design M7 Stereo Reverb Processor.

228 impulse files capturing the Ambience, Chamber, Hall, Plate, Room, & Space Registers.

I/O = AES Digital @ 24bit 96k
IR Resolution = 24bit 96k
The True M7 impulse pack is available for download at no cost. Donations are appreciated.
Visit Signaltonoize for more information and some demo mp3s.