PreSonus lets you add sub-lows to any set of small monitor speakers, gaming rig, or home theater setup with its new Eris Sub8, a subwoofer that was especially designed to complement the voicing and frequency response of Eris-series media reference monitors.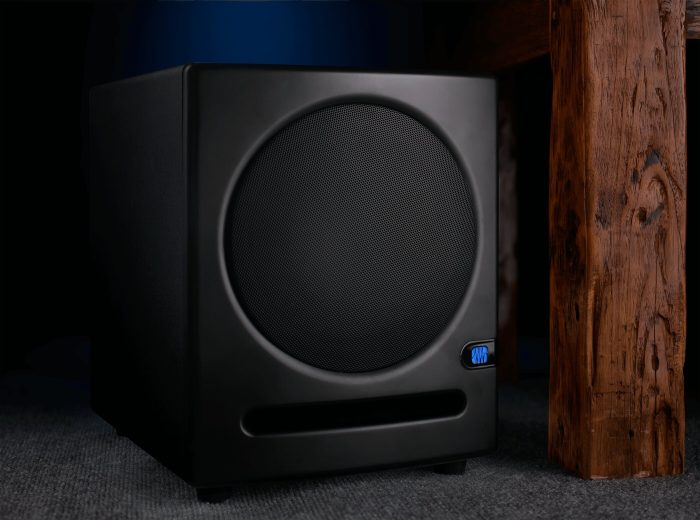 The Eris Sub8 will add serious bass to Eris E3.5, E3.5 BT, E4.5, or E4.5 BT media reference monitors.
Driven by an onboard 100 watt Class A/B amplifier, the Eris Sub8 delivers plenty of powerful, accurate low end all the way down to 30 Hz—a full 50Hz below the Eris E3.5s. It naturally extends the reach of Eris E3.5 or E4.5 monitors in a manner appropriate to smaller rooms, where these monitors excel.

Eris Sub8 flexibly configures to your mixing and listening needs, connecting to your full-range monitors via ¼" TRS or RCA, with an input level control and a polarity invert switch. Its high pass filter switch and variable low pass filter/crossover control ensure the subwoofer starts working at the precise low-frequency point where your full-range monitors drop off. The result is tight, smooth, clear low end, with a seamless transition from your full-range speakers to the Eris Sub8.
Eris8 Sub8 features
8-inch, front-firing, paper-composite low-frequency transducer with high-elastisity rubber surround.
Class AB amplifier: 100W peak (50W RMS) power.
Input gain control (-30 dB to +6 dB, continuously variable).
Continuously variable lowpass filter (50 Hz to 130 Hz).
Defeatable highpass filter removes frequency content below 80 Hz from the full-range signal sent from the Eris Sub8 outputs to the main speakers.
Left and right, balanced ¼-inch TRS and unbalanced RCA main inputs.
Left and right balanced ¼-inch TRS and unbalanced RCA pass-through outputs for connecting satellite speakers.
Polarity invert switch.
Protection: RF interference, Output-current limiting, Over-temperature, Turn-on/off transient, Subsonic filter, External mains fuse.
The Eris Sub8 subwoofer is available now for a street price of $199.95 USD.
More information: PreSonus