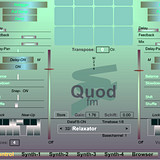 Eska has released version 1.3.1 of QUODfm, an FM synthesis based softsynth for Windows PC.
Changes since QUODfm v1.2
Modwheel support.
Automatable parameters.
Theme support.
Additional full voice (dynamic) unisono, gives a max of 48 oscillators running without CPU load increase.
Two new filter routings.
Two additional shaper modes.
Master Gain, Master Shift.
Improved: Timing & CPU Load.
Fixed: Random crash on save.
Fixed: Portamento was switched off with dynamic unisono.
Fixed: Envelope clicks.
Fixed: Out of sync on long notes.
Fixed: Occasional crash on filter switch.
QUODfm is available as a VST instrument for Windows PC for 39 EUR (ex. VAT). A demo version is available for download.
Visit Eska for more information.