Orange Tree Samples has released Evolution Songwriter, a steel string acoustic guitar instrument for Native Instruments Kontakt and Kontakt Player.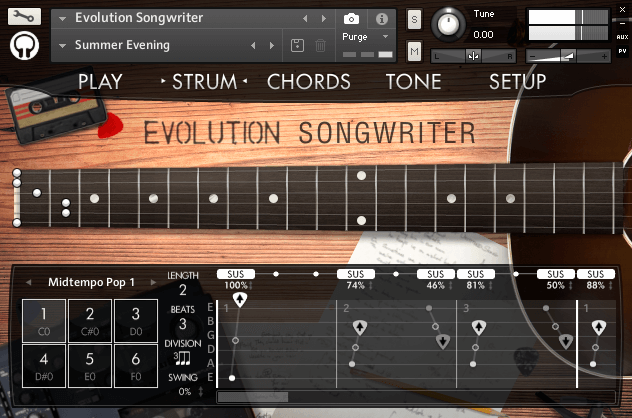 Evolution Songwriter is a faithful reproduction of the legendary Gibson J-45, a steel string acoustic guitar that can be heard on countless singer-songwriter albums over the past decades.
This sample library was inspired by a wide range of artists, including The Beatles, Joni Mitchell, and the more modern acoustic sounds of Iron & Wine and The Dirty Projectors.

The library was developed in collaboration with William Derganc, who not only sampled the acoustic guitar, but was also closely involved with the development process, contributing factory presets, strumming patterns, and custom chord options for the library.
Evolution Songwriter features
Built-in effects engine for instantly-usable acoustic guitar tones.
Adjustable pick position using our proprietary physical modeling technology.
Powerful mapping system that lets you set how you want to trigger articulations, using conditions such as velocity ranges, MIDI CCs, latching and non-latching keyswitches, and more.
Multitracking up to quadruple tracking.
Over 13,000 samples totaling 11.2 GB of 24-bit samples (compressed to 5.2 GB using the lossless NCW audio format).
Articulations such as sustains, palm mutes, mutes, natural harmonics, plus special effects like string slaps, guitar body hits, and more.
MIDI articulations for instant octaves, grace notes, buzz trills, whole-step slides, whole-step hammer-ons, and slides (velocity-based and tempo-synced).
Legato samples for slides, hammer-ons, and pull-offs.
The articulations have 3 dynamics, 2 pick directions (when applicable), and 2x round-robin.
Evolution Songwriter is on sale for the intro price of $139 USD until December 1st, 2017 (regular $179 USD).
More information: Orange Tree Samples / Evolution Songwriter