Exponential Audio has introduced R4, a powerful new reverb with the character of a classic reverb and a host of new features.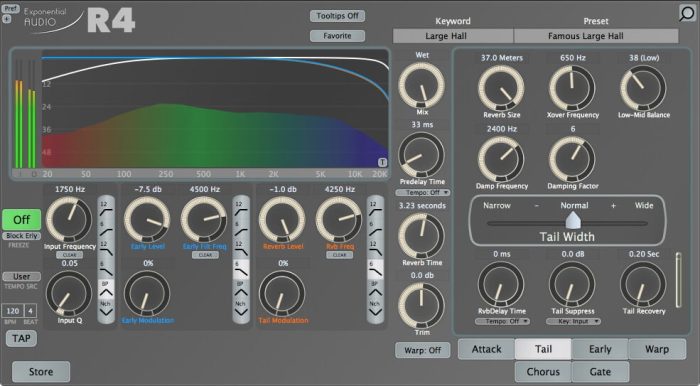 Every generation of engineers and producers has iconic pieces of studio equipment; they act like markers along the path of recording history. Many top engineers will talk about reverbs in the same way, they will speak of the first time they heard some of the classic hardware reverb units which have created a dynasty over the past few decades. Some of these units have Michael Carnes' fingerprints on them, and his new creation R4 is the next reverb in this royal lineage.

R4 offers all the class of historic hardware reverb units but with many new features only possible with modern plug-in development technology. R4 is pure class and for this reason, is destined to become a classic. NIMBUS set a new standard for transparent reverb with unprecedented flexibility. R4 is about to do the same for character reverb. R4 will transform your mix by adding movement and fatness to the reverb tail.
R4 features
A character reverb that outdoes all the classics.
Powerful EQ.
6 selectable types of filter for input, early reflection, and reverb tail.
Early and tail EQ can be dynamically modulated.Whether a subtle pulsation or sweeping notch, modulated EQ is a powerful new weapon in the producer's toolkit.
R4 retains the Chorused Hall of earlier Exponential Audio plugins. And it adds a second Hall with density modulation that adds motion to the tail without adding pitch change. Of course, you can add pitch modulation on top if you want it! These halls are the perfect solution for sparse or sterile mixes and solos.
There's also a Plate and Chamber; updated from R2.
Warp section with compressor/expander and overdrive.
Pre-delay and reverb delay now adjustable by tempo.
Tail suppression circuit for more dynamic response.
Freeze button. Click the button, and the contents of the reverb go into an infinite mode that goes on as long as you like.
Gated reverb effects.
Over 1200 presets.
Helpful tool-tips to guide new users.
R4 for Windows and Mac (VST/AU/AAX) will be available on March 10th, 2017, priced at $299 USD/289 EUR, with a free 21-day trial available. Existing Exponential Audio customers will be eligible for special pricing.
More information: Exponential Audio / R4