Exponential Audio has launched a Black Friday Sale, offering its PhoenixVerb plugin for just $49 USD, and up to 30% off other plugins and upgrade.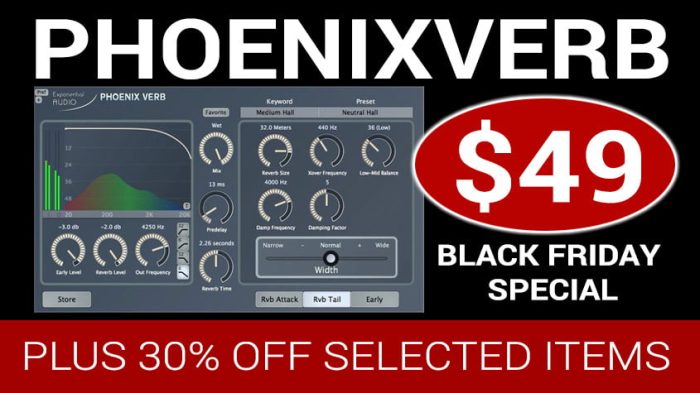 It's that time of the year! For the next two weeks, through December 9, you can save a lot of money on Exponential Audio plugins.

PhoenixVerb At $49 Is A Steal!

Let's begin with the biggest saving of all.

For years you've been hearing about the natural sound, flexibility and low CPU load of PhoenixVerb. We think everyone should have a copy of PhoenixVerb. So for a limited time you can get it for only $49/€49. It's a the full version with nothing taken away at the lowest price we've ever offered. This price is available only through December 9, so don't wait.

A small note: this promo price means that the license cannot be resold and is non-transferable.

Big Deals All Over The Store

All other plugins and upgrades are offered at up to 30% savings.

Visit the web store and the upgrade center to learn more. And don't forget the magic discount codes. If you're purchasing in dollars, use the code HappyDollars2016. For Euros, use HappyEuros2016. Don't miss out.
The sale ends December 9th, 2016.
Make sure to check the huge list of deals for more Black Friday sales.
More information: Exponential Audio