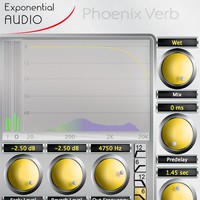 Exponential Audio has released version 1.2 of its PhoenixVerb and R2 reverb effect plug-ins for Windows and Mac.
The long wait for 64-bit Windows code is over. PhoenixVerb and R2 now support 64-bit Windows VST and Windows AAX. There are many other improvements–a better preset loader, faster startup, better performance.

If you're already an owner, get to the download page and get your update. If you'd like to try them out, go to the demo pages and get a new 21-day demo.
Changes in PhoenixVerb / R2 v1.2
64-bit Windows VST.
Windows AAX (32-bit).
Mac and Windows versions and features are now synchronized, with identical features between both.
Updated 64-bit AAX. Another release will be needed when ProTools 11 ships (due to digital signing), but current version will work well for any PT11 testers.
Fixed a problem in the graphics library that could cause crashes for Cubase and Studio One (possibly other Windows DAWs).
Plugin scanning and launch are now faster.
Added a Cancel button to preset menu.
Changing a keyword no longer automatically loads a preset from the new keyword. No preset is loaded until the user selects one.
Fixed a bug that appeared in Windows. There were a few value gaps in setting output gain parameters.
Fixed a problem in automation. 'Touch' style automation was a fight between original knob position and the desired position. This was also a minor problem in other forms of automation, but was much less noticeable.
Dialed back the GUI color intensity by a couple of notches.
Completely rewrote the preset loader in the GUI. The popup menu no longer goes from the top of the screen to the bottom for large lists. The new compact view actually shows many more presets at once. In addition, the preset list will no longer show up behind the main GUI in those cases where it was a problem.
As part of the new preset loader, there is now subtle background coloring that helps to group presets that are variants of a basic preset ( Dark, Narr, etc).
Defer loading graphics until a UI is opened. This makes load quicker for jobs in which the UI is normally closed.
Fixed a longstanding minor bug that sometimes corrupted the keyword list when deleting a user preset.
Fixed a problem that appeared in Digital Performer (and probably other DAWs) in which the reverb tail would stop as soon a playback stopped. Reverb tails now continue after motion stops.
New presets.
Considerable under-the-hood work for stability and teensy performance improvements.
PhoenixVerb and R2 are available to purchase for $199 USD and $299 USD respectively. A bundle of both is $449 USD.
More information: Exponential Audio