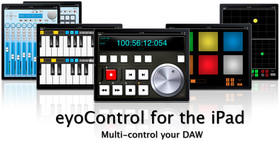 Eyosido has released version 1.2 of eyoControl, a bundle of MIDI controller apps for iOS.
eyoControl is a set of MIDI controllers enabling control of your Digital Audio Workstation (DAW) software from your iPad in various ways, such as a control surface or a virtual instrument.
Changes in eyoControl v1.2
Transport, new controller: transport bar with big scrub wheel and large timecode display, to remotely control basic playing/recording abilities of your DAW/recording software.
Surface 1.2:

Improved timecode display (all digits, better accuracy).
Better scrub wheel behavior (similar to Transport).
Slight graphic update, few items moved around.

iPad does not go idle anymore while controllers are running.
Controller's orientation can be locked in any orientation mode from Preferences.
eyoControl Server mode: the default eyoControl instance name is no more a random name but the iPad's name.
Smaller controller icons on the Library page.
Help button on top of the Library page.
Fixes for app staying long periods in background.
eyoControl is available to purchase from the iTunes App Store for $6.99 USD.
More information: Eyosido