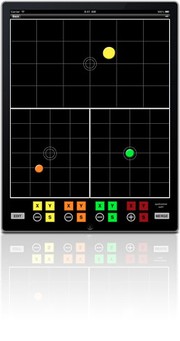 Eyosido has released version 1.1 of eyoControl, a set of controller apps for iPad.
eyoControl lets you control your Mac or Windows based Digital Audio Workstation (DAW) software from your iPad in various ways, such as a control surface or a virtual instrument. eyoControl communicates with your DAW through the native iPad MIDI functionalities (CoreMIDI) or, optionally, the dedicated eyoControl Server application (Mac only) for advanced connectivity options. eyoControl supports most DAW software such as Logic, Cubase…
Changes in eyoControl v1.1
Added iOS native wireless MIDI support (CoreMIDI) and compatibility with Windows XP/Vista/7 using rtpMIDI (check eyosido.com for details). eyoControl Server is no more required but still supported and provides advanced connectivity options.
New controller mXY: multi-X/Y controller with 4 independent, highly configurable X/Y controllers.
Surface: added DAW type selector so DAW type can now be selected from the controller. This enables CoreMIDI users to select DAW type without using eyoControl Server.
Improved latency for instrument controllers.
eyoControl for iOS 4.2 or later is available to purchase for $6.99 USD.
More information: Eyosido