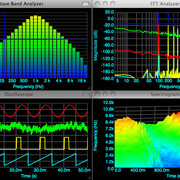 Faber Acoustical has released SignalScope Pro 3, a modularized, multi-channel dynamic signal analyzer and data acquisition platform for Mac.
SignalScope Pro 3 builds on SignalScope's tradition of award-winning design and precision measurement capabilities by building on advanced technology developed for Faber Acoustical's flagship product, Electroacoustics Toolbox.
SignalScope Pro 3 features
Hardware-accelerated OpenGL graphics for fast real-time plotting.
Quartz-based graphics for high-resolution still images and prints.
Advanced control over input and output devices.
Whole device and individual channel sensitivity (level) calibration.
Support for units, including Volts, Amps, pascals, and Engineering Units.
Saving complete configurations and data in project files.
Exporting data to ascii text or MAT-files for easy import into other applications.
AppleScript support for measurement automation and remote control.
SignalScope Pro for Mac OS X is available to purchase for $199.99 USD.
More information: Faber Acoustical / SignalScope Pro 3