FabFilter has released updated versions of the Twin 2 synthesizer, Volcano 2 filter, and Pro-C compressor plug-ins.
We have just released updates for our FabFilter Twin 2, Volcano 2 and Pro-C plug-ins. These contain various fixes and improvements, including making all VST 3 plug-ins compatible with Cubase 5.
Changes in the updates
The VST 3 versions of all plug-ins have been updated for Steinberg Cubase 5, and contain improved MIDI support and bypass functionality.
Fixed problems with the external side chain input in combination with the envelope generators in FabFilter Twin 2 and Volcano 2.
FabFilter Twin 2 fixes various minor problems with loading Twin 1 presets.
All plug-ins contain various other fixes and improvements.
The updates are free for existing customers and can be downloaded here.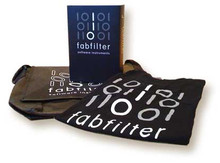 FabFilter has also announced a preset contest.
Since Twin 2 already contains an impressive grand piano preset, we are looking for an equally impressive vintage-sounding Rhodes piano preset. Submit your presets before April 15. The winner gets a FabFilter goodie bag including a free Total Bundle!
A winner will be selected based on:
Authenticity of the sound: is it as equal to a real Rhodes electric piano (any model, please specify) as possible?
Playability: how does the preset react to velocity, keyboard tracking etc?
CPU usage
Visit FabFilter for more information.