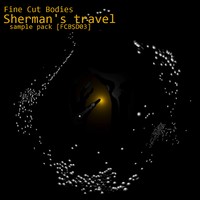 Fine Cut Bodies has introduced Sherman's travel, a free sound fx sample pack.
Yesterday i've recorded a dirty sampleset driving through my Sherman Filterbank and thought to feed my noiseFlow based particle system in Max/MSP with them…

If you like bubbling electricity then this will be something for you. Free download of the sample pack (24/44) can be found below.
The download is free at Email Unlock (valid email required).
More information: Fine Cut Bodies