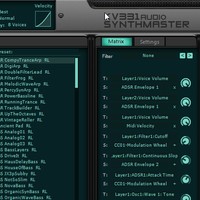 KV331 Audio has updated its SynthMaster software synthesizer plug-in for Windows and Mac to version 2.6.
SynthMaster is an 'all-around' semi-modular software synthesizer and effect plug-in that features many different synthesis methods including VA, Additive, Wavetable, Wavescanning, Phase Modulation, Frequency Modulation, Pulse Width Modulation, Ring Modulation, Amplitude Modulation, Physical Modeling and SFZ Sample Playback synthesis.

With its multi-synthesis oscillators, analog modelled/digital filters, flexible effects routing with 11 types of high quality effects and a massive modulation architecture with 95 separate modulation sources and 650+ modulation targets; SynthMaster is a 'must-have' for all synthesizer enthusiasts!
Changes in SynthMaster v2.6
Support for SynthMasterCM and SynthMasterBE presets: SynthMaster now reads SynthMasterCM and SynthMasterBE presets. Also, SynthMaster users can download the online presets submitted by SynthMasterCM and SynthMasterBE users.
MIDI Output: Synthmaster now outputs the MIDI data generated by its arpeggiators on layers 1 and 2.
250 New Factory Presets: SynthMaster CM and SynthMaster BE factory presets (130) along with Rob Lee's new factory presets (114) have been added to the factory content of SynthMaster, increasing the total presets count to 750.
Demo Restrictions Updated: The demo version of SynthMaster now contains 300 factory presets, and the demo timeout duration has been increased to 15 minutes.
User Preset Folders: SynthMaster now remembers the folders used to save the user presets.
Easy Parameter Assignments: The auto-assign algorithm for easy parameters have been improved in version 2.6.
MIDI Sequence Imports: The arpeggiator can now import MIDI files that contains triplet notes as well.
SynthMaster for Windows and Mac (VST/AU) is available to purchase starting at $59 USD.
More information: SynthMaster