Stone Voices has released version 4.0 of Ambient Reverb, a freeware algorithmic reverb effect plugin for Windows.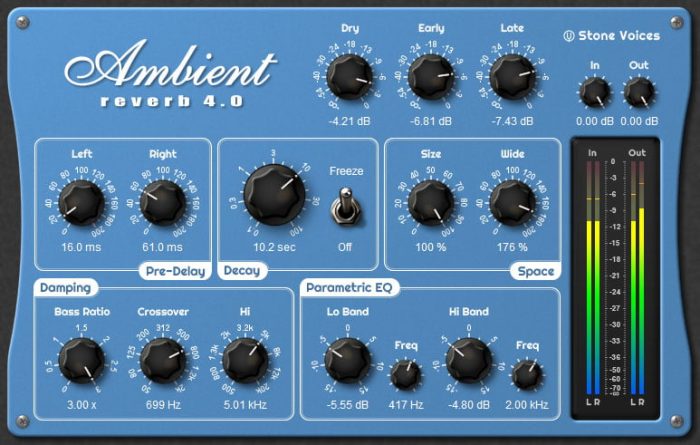 With a reverberation time up to 100 seconds, this plugin is designed for use in ambient music genres.
Distinctive feature of a plug-in is the broad range of reverberation time (up to 100 seconds) that allows to receive types of reverberation, different on character, and also an opportunity in a literal sense to freeze sounds, at the same time to receive interesting sound pads, like Frippertronics.

The reverberator of "Ambient Reverb" works by the principle of algorithmic reverberation with calculation enough the dense sound reflections on time, allowing to receive realistic reverberation without effect of granularity.
Ambient Reverb features
Algorithmic Reverb.
Reverberation time up to 100 seconds.
16 factory presets.
Two band parametric equalizer.
Indicator and knobs of input/output level.
Low load of the central processor.
Ambient Reverb is a free download for Windows (32/64-bit VST).
More information: Stone Voices / Ambient Reverb