Audio Plugin Deals is offering Riot Audio's Bionic Plucks & Mallets Lite Edition for free for the next two weeks.
This unique "transient splicing engine" for Kontakt allows you to combine different transients (the attack of the sound) with different tails to create your own unique sounds.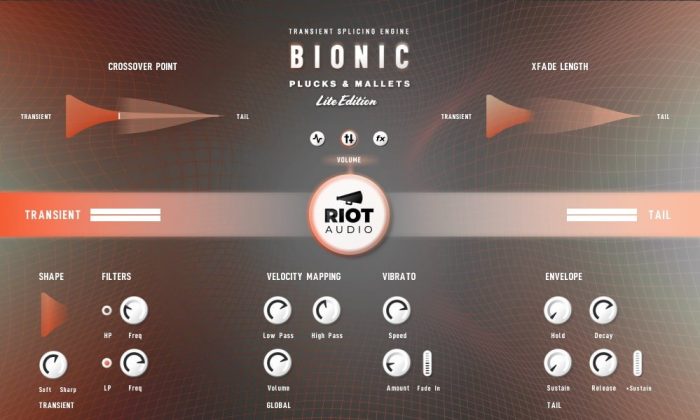 The instrument library includes hybrid recreations of classic sounds with mostly organic attacks (taps, mallets, plucks, brush) and a mix of organic and synth/pure sine tails.
Bionic Plucks & Mallets Lite features
4 layers of sound: 2 transient layers and 2 tail layers.
Extensive sound sculpting controls, including crossover fade (between transient and tail samples), crossover point, tail envelope, transient attack curve (shape).
Vibrato, Velocity Sensitivity (Volume, Low Pass and High Pass) and Humanize Controls for in-depth realism.
20 Presets: Tap Celesta, Tap Bell, Mr Android Pluck, Plastic Pizzicato Bass, Breathy Stab, Expansive Xylophone, Rhodesian Scholar, House Organ, Vibey House Organ, Steel Drum Baby, Music Box, Starlight Swoosh, A Gong or Two, Plucky Squelchy Bass, White Noise Organ Stab, Pillow Harp, Gamelan, Hammond Bass, Electric Bass, Heavy Tines.
Replika Analog Style delay.
Regularly $30 USD, this library is available for free at Audio Plugin Deals until February 4th, 2021.
The full version of Kontakt 6.4.2 or higher is required to use Bionic Plucks & Mallets.