Full Bucket Music has released the Full Bucket Vocoder FBVC, an audio effect plugin that simulates the classic Korg VC-10 Vocoder from 1978.
The microphone input signal (well, any signal you feed into the first two inputs of the FBVC…) is used as the Modulator signal, i.e. it is analyzed by 20 bandpass filters and their responses are converted into 20 control signals.

The Tone Generator signal mixed with the Noise and the external signal (any signal you feed into inputs 3 and 4 of the FBVC) serves as the Carrier signal: It is filtered by another bunch of 20 bandpass filters and their level is controlled in real-time by the control signals of the Modulator. These filtered carrier signals, summed-up and optionally send to the Ensemble effect, provide the output signal. Magic.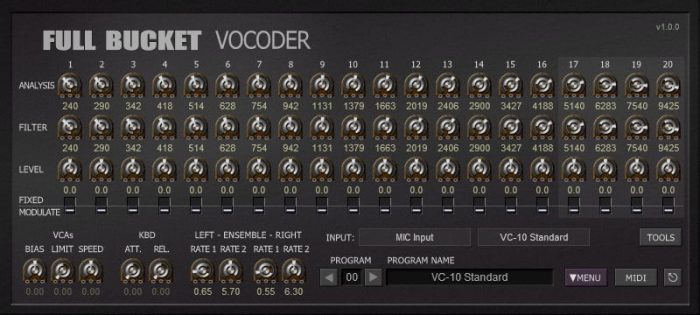 FBVC features
20 band full stereo vocoder.
64 voice polyphonic built-in Tone Generator section.
Accent Bending and Vibrato effects.
Optional WAV file playback.
Fully tweakable Analysis/Synthesis section.
Tweakable Ensemble effect.
Double precision audio processing.
All parameters can be controlled by MIDI controllers.
The plugin is a free download in VST and AU formats for Windows and macOS (32 bit and 64 bit).
More information: Full Bucket Music