W.A. Production has announced the release of its new audio plugin Fundamental Bass, an effect that splits audio into high and low modules for independent processing, allowing smooth compression of the low end without losing the excitement of mid and high frequency dynamics.
As a famous vocalist once sang, "It's all about the bass" and in as far as most genres of music are concerned, she'd be correct! Bass line balancing has always been a big challenge for producers, especially at the mixing stage, as the dynamic range of low end material can be huge. If you leave bass lines as they are, then they'll threaten to unbalance the rest of your mix, but apply compression too liberally and a lively bass sound will have the life sucked out of it. So what to do?

That's where Fundamental Bass comes in, giving you a quick way to tighten up the dynamics of your low end whilst keeping the snap and sparkle of mids and highs. The processing is achieved with an adjustable frequency split which feeds to two separate modules for processing. The low band features twin-compressors and imaging adjustment for clarity and mono compatibility. The high band compresses and adds grit, enhancing natural harmonics whilst keeping the bounce of the bass.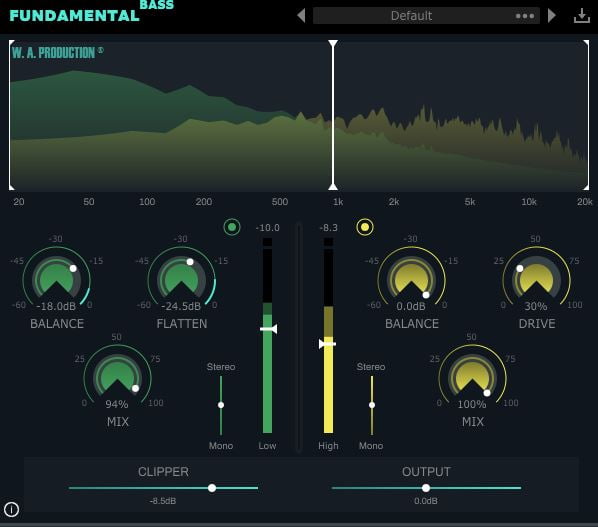 Fundamental Bass features
Frequency-split bass processing.
Independent compression & stereo imaging.
Tube-style saturation & distortion.
High and low frequency filtering.
Visual feedback.
Responsive & CPU friendly.
Factory presets.
Full PDF Manual & Tutorial video.
Regularly $39.90 USD, the plugin is on sale for the intro price of $7.90 USD until November 10th, 2020. It supports VST, AU and AAX formats for Windows and Mac.
Fundamental Bass is available from W.A. Production and distributor Plugin Boutique.