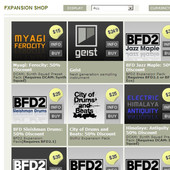 FXpansion has announced the December Half Price Sale, a limited time offer for its expansion packs.
For the entire month of December all FXpansion download-only expansion packs are 50% off for registered owners of BFD2, BFD Eco, DCAM: Synth Squad, GURU & Geist!
December Half Price Sale expansions:
BFD2 & BFD Eco

:

Jazz Maple
Heavy
Cocktail
JEX
Decatom
Oak Custom
Maple Custom Absolute
8 Bit Kit
Japanese Taiko Percussion & Grooves (BFD2 only)
Signature Snares Vol.1 & Vol.2
Sleishman Drums & Sleishman Snares

DCAM: Synth Squad

:

Himalaya: Antiquity
Myagi: Ferocity (New!)

GURU & Geist

:
To take advantage of these offers, log in to your fxpansion.com user account and visit the online shop.
FXpansion has also released version 2.2 of BFD, a virtual drum instrument for Windows and Mac.
It includes new features like choke groups, random kit generation and many workflow enhancements and bug-fixes. Please note that, on Mac, the update requires Mac OSX 10.5 (or higher) and at least an Intel CoreDuo processor. A new set of presets is also available for download.
More information: FXpansion