Plugin Boutique has launched a Friday Flash Sale on Maul, the multi-band distortion and tone-shaping effect plug-in by FXpansion.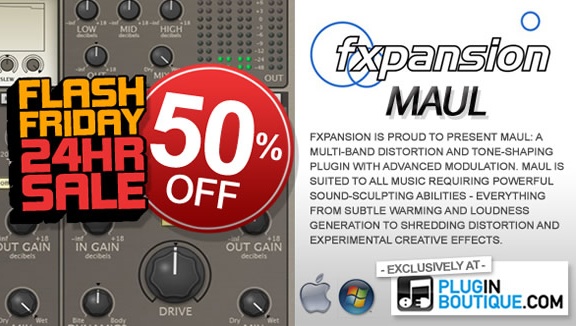 Maul is suited to all music requiring powerful sound-sculpting abilities – everything from subtle warming and loudness generation to shredding distortion and experimental creative effects.

Maul features 3 separate drive stages, each of which can act on a different frequency range with any of 32 distortion types. The available algorithms include DCAM-modelled germanium diode, tube and transistor-based circuits, clippers, overdrives, waveshapers of various kinds and bit-crushing devices for digital distortion flavours. Each drive stage also features control over transient-shaping, saturation circuitry and additional post-process tone filtering.
Maul is 50% off at Plugin Boutique until June 16th, 2014.
More information: Plugin Boutique / FXpansion Maul