FXpansion has posted a sneak preview of Strobe 2, one of the synthesizer instruments in the upcoming DCAM Synth Squad 2.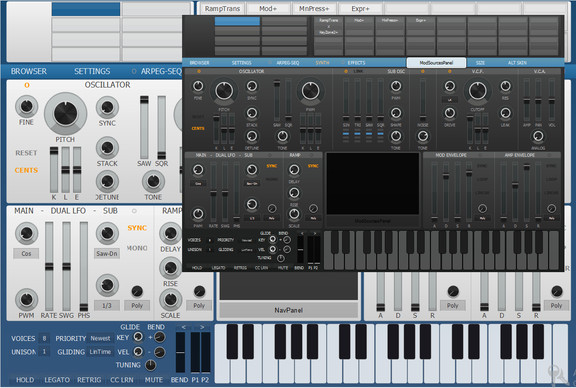 I'd like to offer everyone a chance to take an early look at, and, more importantly, listen to, Strobe v2.0. We've been working on this for quite some time, and there's still a little way to go, but we think it's ready enough that it's time to get some feedback from a wider audience.

The other synths are being updated to the new engine as well, of course – all three will share the most of the above, with Amber in particular getting some improvements to its audio engine – improved CPU efficiency means we're able to model some elements that got left out in the original (particularly glad we've been able to get Logan-style "diode VCA"s in there – they're absolute junk in fidelity terms but sound amazing). More on that later.
Changes in DCAM Synth Squad 2
Glitch-free, 100% vector scalable UI, available in (at least) two flavours.
Integrated effects, including some brand new algorithms as well as some thing that owners of Etch, Bloom and Maul may recognise, with full TransMod capability on (almost) everything.
16 Transmod slots.
Instant patch switching between 8 active sounds.
Huge CPU optimizations.
Rebuilt arpeggiator, stepsequencer and modulation processor.
Ability to unlink the Sub from the Stack/Detune/Sync parameters.
Phase reset on the main oscillator.
Frequency-linked tone controls on each oscillator section.
Gain compensation and leakage control on the filter.
Adjusted envelope and fader ranges, much better consistency in the internal smoothing algorithms, choice of detuning modes, dozens of other little refinements.
Check the announcement at the KVR Audio forum for more details.
More information: FXpansion