G-Sonique has announced the release of TrebleCream, a mid-treble & transients softening effect plug-in for Windows.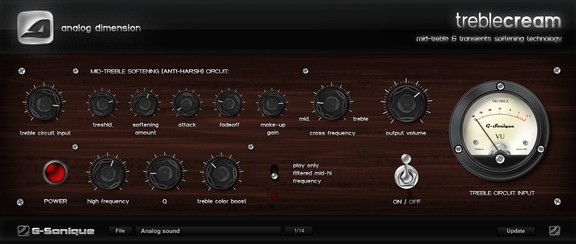 TrebleCream is new technology with special digital algorithms / virtual circuits inspired by analog electronic structures for achieving really pleasant, creamy mid-trebles and transients without loosing any intensity of mid-high frequencies. TrebleCream will help you remove "harshness" from mix within few seconds.

Treble cream was developed in cooperation with Analog Dimension. Senior mastering engineer of Analog Dimension studios says "More than 50% of mixes that we are receiving has screaming or distorted mid-trebles and or/transients, while rest of mix is relatively good. Sometimes song is 2x louder after mastering because of modern trends and all these negative artifacts (harshness, mid-treble distortion) are logically boosted during mastering, while many people thinks that mastering can fix all mistakes in mix all experienced engineers will tell you that it is not truth. Simply mastering can't save wrong mix. Many people are using low quality digital compressors, coloring plug-ins, limiters and all these plug-ins are producing distortion on mid-trebles and transients if used unduly.
TrebleCream for Windows (VST) is available to purchase for the introductory price of 18.90 EUR (regular 28.90 EUR).
More information: G-Sonique / TrebleCream