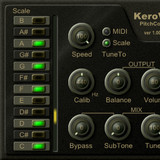 g200kg has released version 1.24 of KeroVee, a free pitch correction effect plug-in for Windows.
KeroVee is focused to so-called 'Autotune effect' or 'T-Pain effect', that is robotic but different from the vocoder. KeroVee can mix two independent transposed outputs of pitch-corrector and bypassed output.
Changes in KeroVee v1.24
Input freq range is expanded to soprano.
Small improvement to the sound engine.
Improved MIDI note handling logic.
Parameter step (ex. formant) more granular.
KeroVee is available as a freeware VST effect plug-in for Windows PC.
More information: g200kg