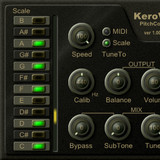 g200kg has released KeroVee, a free pitch correction effect plug-in for Windows.
KeroVee features
Scale Buttons 'C' to 'B', specify the 'Allowed' note.
Tuning Speed control (May sound robotic if set to '100=MAX').
Tuning can be set to Midi notes and to specified scales by scale buttons. If both are enabled the MIDI note has priority, but scale tuning is effective after notes are 'offed'.
Master tuning 430Hz to 450Hz (default is 440Hz).
Volume output level and panning controls.
Separate controls for mixing of original, tuned, and 1 octave subtone tuned sound.
KeroVee is available to download as a freeware VST effect plug-in for Windows PC.