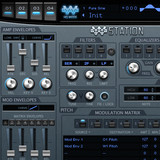 Wusik has released version 6.0 of Wusik Station, a virtual sampler/rompler instrument for Windows.
Since it started, it got more and more features asked for by users, a new interface, easier way to load presets and much more. Its been rated by users the number one choice when creating songs. It can cover pretty much any style of music. From NewAge to SoundTracks, from Dance to Techno.
Changes in Wusik Station v6.0
Added: New Multi Preset Layer. Now you can have 16 times more Layers, WaveSequencers and GrooveSequencers. Each Multi Preset Layer can load a full WusikPRST file.
Added: New TreeView File Browser which lets you browse not just the Wusik Station Data Folder, but your entire Drive(s) on your computer. With several options, like Drag-and-Drop to move files around, copy, paste, rename, move, new-folder, search and other options.
Added: Drawable Waveforms. We included a small set of waveforms in a WusikPACK file. You can also open regular sounds and convert to a Drawable WusikSND file. They work just like a regular WusikSND file, but when you open the Sample-Editor, it shows a different window where you can draw waveforms directly. There are several ways to draw and manipulate waveforms: free-draw, line-draw, zoom, phase-positioning, smooth, normalize, phase-invert and inverse. Drawable waveforms are saved in the preset/project file, so there's no need to save to WusikSND files, unless you want to share your waveforms.
Added: Groove Sequencer Remote Pattern key zone start and end. The key just before the lowest zone key will stop the current groove.
Added: new Mod-Matrix Destination – Sticky Keys. When you play a key, it will sustain until you play another key, and the a certain time has passed. Or, if you play a near zero velocity key (velocity < 20, from 127) all keys will stop. The time is set with the Amnt option. It will use the BPM tempo to determinate the number of secods of each beat. So, if you set 1, it will stick all keys played during the period of 1 beat. This is better than latch, as you can play chords, and not even at the same time. Just raise Amnt to the number of beats you want notes to stick together.
Added: option to disable audio-input. (right click / context menu).
Fixed: mod-matrix problem with Midi-CCs as Source and Amplitude as destination. (and other destinations) This would cause a high-pitch sound in the Orchestral-Lite Wind sounds.
New Additions to Wusik Station V6 Full Version: The Sound Bank, Volumes 1, 2 and 3. Those are not new sounds, but previously released sounds, that are now part of the Wusik Station V6 New Sound Package. (plus the previous V5 Sounds Package).
Wusik Station is available to purchase as a VST instrument plug-in for Windows PC, priced at $99.95 USD. Various upgrades and bundle deals are available as well.
More information: Wusik