Plugin Boutique has launched a sale on Toneforge Misha Mansoor, an audio plugin by Joey Sturgis Tones developed from Misha Mansoor's signature guitar sounds.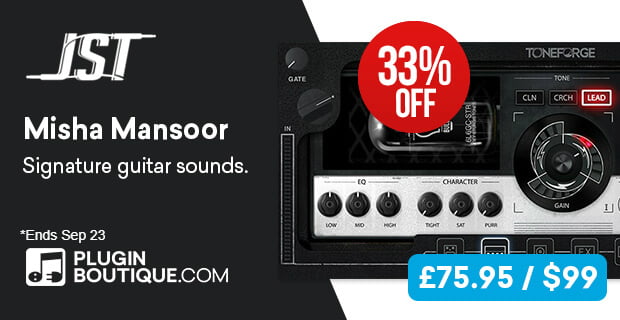 Designed by Joey Sturgis Tones and Misha Mansoor of Periphery, Toneforge takes any direct input guitar signal all the way to fully mixed guitar tone with unique all-in-one design.
Toneforge Misha Mansoor features
Three-Channel amp with unique "infinity" gain knob that morphs the tone stack in levels as you increase the gain.
Built-in virtual model of Horizon Devices Precision Drive Pedal.
Amp features insane amounts of detail control such as Harmonics, Compression, Saturation, "Purr" and more for crafting your own signature tone.
JST Matched Cab – a perfectly paired set of cabs to match each amp mode, curated by Joey Sturgis.
Robust cab room including a private selection of Misha's speaker and cab collection and built-in IR loader for external Impulse Responses.
Three incredible effects pedals developed to Misha's exacting standards.
Mixing tools built in for all-in-one tone-crafting and mixing.
Toneforge Misha Mansoor is available in VST/VST3, AU, RTAS and AAX plugin formats. Regularly $149 USD, the plugin is on sale for $99 USD until September 24th, 2019.
More information: Joey Sturgis Tones