Plugin Boutique has announced that a bundle of the Trash 2 distortion and Carbon virtual instrument is free with a purchase at its store through the month of September.
iZotope's Trash 2 is a creative multi-band dual stage distortion effect.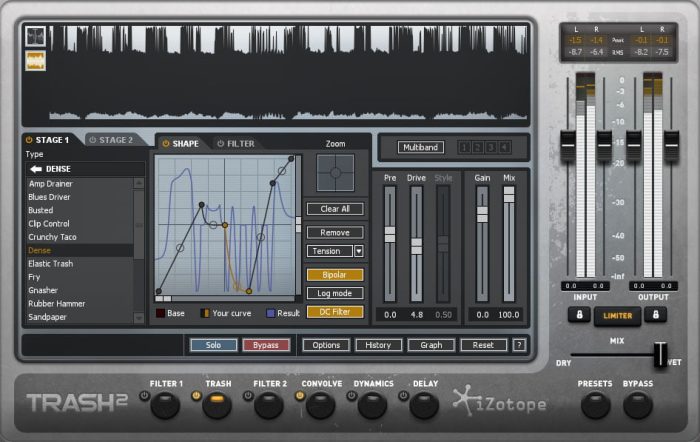 Trash 2 takes the best of Trash and makes it even better. With an entirely new sonic architecture, brand new features, optimized performance, better sound quality, and support for modern hosts and formats, Trash 2 is primed for a powerful new era of audio mangling, distortion, and experimentation. Let sonic mayhem ensue.
Trash 2 features
Distort in ways you never dreamed with the Trash module's 60+ distortion algorithms, perfect for transforming your sound into something never before heard.
Design your own unique distortions, from massive to mild and everything in between, with a new, customizable, multiband Waveshaper.
Let your tracks inhabit any space or object with the new Convolve module. Choose from over 100 impulse responses or load your own to put your bass in a washing machine or your keys in a cave.
Find a new voice: make your audio speak and growl with two redesigned Filter modules, each one featuring new vowel formant filters, screaming peaks, node modulations, and more.
Start trashing your audio immediately with an extensive new preset library and an ear-friendly Limiter that ensures you can play without fear.
The Virtual Guitarist series Carbon instrument by UJAM delivers versatile modern "sound-designed" guitar sounds in all kinds of music genres, from the super-quantized accents in electronic music to action-packed big riffs in game soundtracks to subtle vibes in movie scores.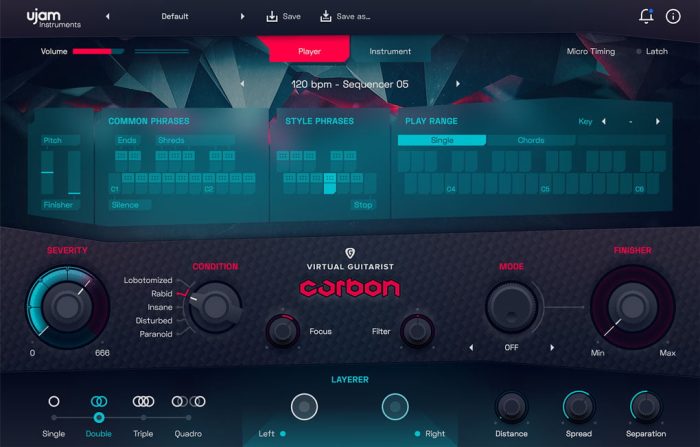 CARBON is for sound designers and musicians who go beyond borders. It's an otherworldly guitar for game soundtracks and film scores, but can also give electronic and pop music that extra kick. It's a wild and heavily distorted sound, yet that rawness is somehow precise, controlled and sometimes even synth-like at the same time.
Virtual Guitarist Carbon features
Organic, distorted and processed rhythm guitar sounds for electronic music, soundtrack, rock and other contemporary music genres .
Instrument Mode lets you play a wide range of articulations on an amazing 8-string guitar, Player Mode comes with inspiring riffs and phrases.
Unique Layerer soundstage combining up to four guitarists for ultimate fatness.
Finisher multi-effect rack combining 20 cutting-edge effect algorithms into 100 presets, live-controlled or automated by one single knob.
The bundle of Trash 2 and Carbon is free with a purchase of any paid-for product through September 30th, 2020. Make sure to check the sales page as all current deals also qualify you for the free bundle.
More information: Plugin Boutique