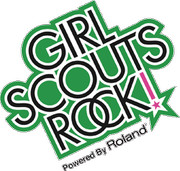 Roland and Girl Scouts of the USA (GSUSA) have recently joined forces to create Girl Scouts Rock! Powered by Roland, a series of interactive events designed to inspire and empower girls through music.
The new initiative was launched in Los Angeles on March 19, 2011, with over 100 enthusiastic Girl Scouts and their parents in attendance. On hand to lend her support was Charlotte Caffey, lead guitarist and songwriter for the pioneering all-female band the Go-Go's. Rising Disney star Shelby Spalione also appeared, performing with The Rockin' Roland Girls Band. Afterward, the band members led a series of interactive sessions where the scouts played and learned about Roland instruments such as the Lucina AX-09 Synthesizer, HD-1 V-Drums® Lite, and many more.

The Girl Scouts Rock! Powered by Roland partnership gives girls from 8-14 years of age a hands-on experience playing popular music with modern musical instruments; an important opportunity that fewer girls are receiving due to music budget cuts in schools all over the nation. The fun, interactive curriculum co-developed by Roland and GSUSA aims to get girls pumped up about making music and music education.

Girl Scouts Rock! Powered by Roland is part of the latest Girl Scout leadership journey, It's Your Story-Tell It!, which uses creative expression to help girls gain a better understanding of themselves and their potential. During the events, parents and troop leaders have the opportunity to participate in Better Life with Music sessions, where they can learn about the latest research and information regarding the benefits of music education in the lives of their children.

"This year will mark the 30th anniversary of Beauty and the Beat," said Charlotte Caffey, referring to the Go-Go's landmark 1981 debut album while speaking at the Los Angeles event. "As a female musician and songwriter and mother of a 16-year-old daughter myself, I love that the Girl Scouts and Roland have partnered to bring girls across the country access to making music."

A second successful Girl Scouts Rock! Powered by Roland event was held in Miami, Florida, on April 30, 2011. Additional events are scheduled for Chicago, Illinois, on May 14th and New York City, New York, on May 21st.
More information: Girl Scouts Rock! Powered by Roland