Another week, another giveaway! This time you can win the excellent Chromaphone 3 software synthesizer by Applied Acoustics Systems!
Chromaphone is a unique instrument that features 8 physically modeled acoustic resonators. You can mix and match strings, plates, drumheads, membranes, beams, bars, and tubes to reproduce real-life instruments or create original ones.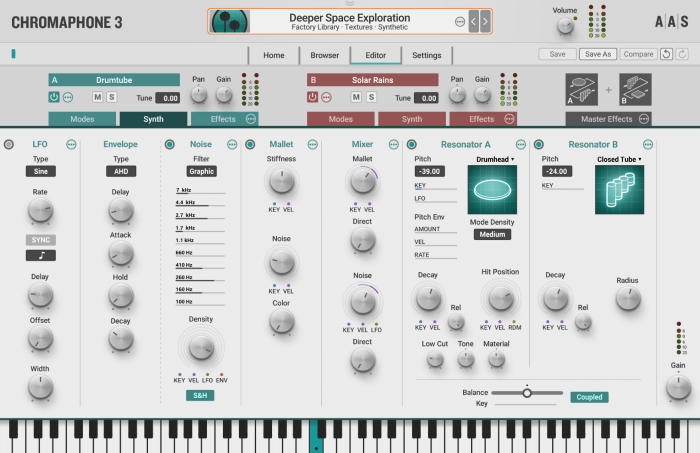 Chromaphone is a synthesizer based on acoustic resonators. Combinations of resonators are used to create drums, percussion, string and hybrid synth-like instruments.

Membranes, bars, marimbas, plates, strings, and tubes form pairs that are excited by a mallet and a flexible noise source. Access to different parameters such as the material of the resonators, their tuning and hit position allow for the creation of a vast range of realistic and creative instruments and sonic colors.
The latest version of Chromaphone sports a brand new Home view designed to explore and tweak sounds with ease.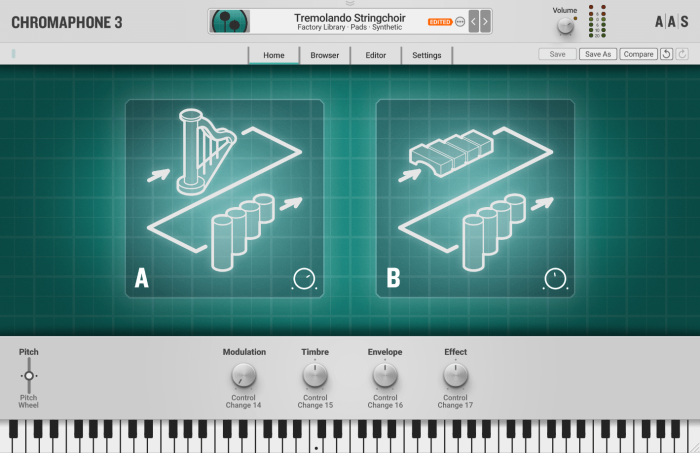 The synth is now two-voice multitimbral, which means you can combine timbres or split them on the keyboard. A completely new factory library with well over 400 sounds is included alongside an updated legacy Chromaphone 2 library.
Chromaphone 3 is a versatile synthesizer that is great for both music producers who are looking for superb sounds right out of the box, as well as sound designers looking to create complex sounds.
The synth is currently on sale at a 50% discount as part of AAS' Thanksgiving Sale, which is a great deal. However, if you would like to try your luck, you can win a free copy of Chromaphone 3 right here in our giveaway.
Just leave a comment below and let us know what you think of Chromaphone 3, and one lucky winner will be chosen at random from all entries submitted before the end of Black Friday, November 27th, 11.59pm CET.
Good luck and make sure to visit Applied Acoustics Systems to download the free demo and take Chromaphone for a spin to see how you like it.
More information: Applied Acoustics Systems