Music producer magazine Beat has announced availability of its latest international issue, featuring tips on recording workflow, a free download of d16's Sigmund delay, and more.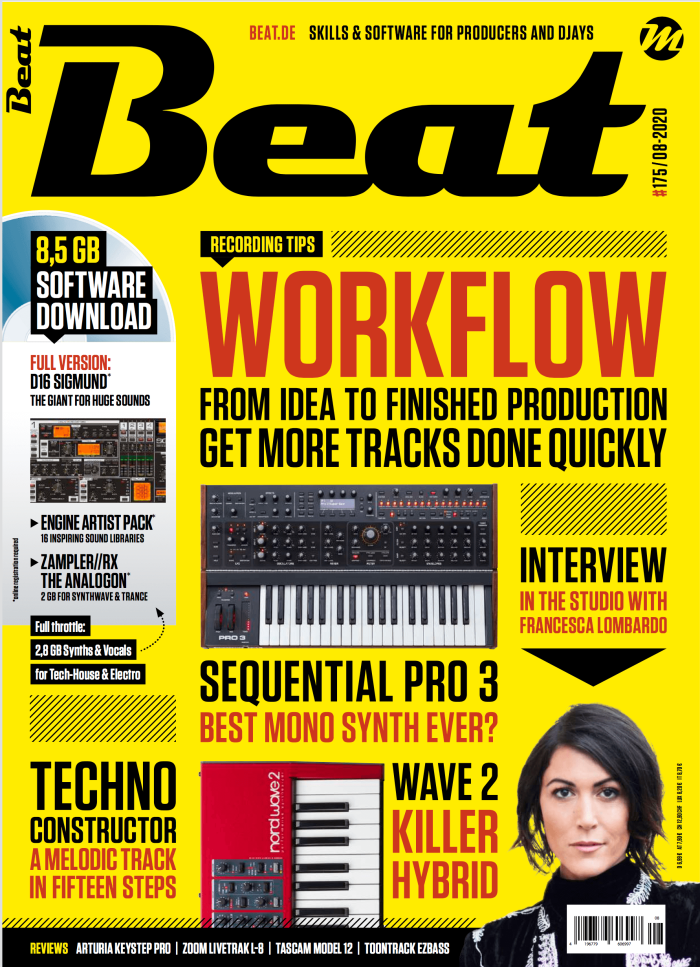 Beat issue 08|20 contains 100 pages filled with reviews on the latest hard- and software, reports and interviews from musicians and the music business, as well as hands-on tutorials, workshops, music reviews and tips.
Whether large studio, home recording or laptop setup… when creative ideas come up, a well thought-out workflow is essential. But what can you do to optimize your hardware and software setup so that ideas can be captured quickly and efficiently when the muse kisses you? And how do you get the best sound when recording? In our large Workflow feature we address these questions and show you how to make the most of your technology to achieve the best possible musical output.

If you like echo effects with charm and spacey delay experiments, Sigmund is a joy to work with! Our full version by d16 is much more than a delay effect: The plug-in is a real secret weapon for delay and modulation effects of any kind. But the remarkably flexible creative tool is also equipped for exciting filter and distortion effects and complex modulations.

As usual, the Beat magazine is accompanied by a download with a multifaceted range of exciting plug-ins, sounds and samples. The Engine Artists Library from Best Service provides almost unlimited sonic inspiration for your productions. Need some fresh new sounds for your sample folder? In this case, you will surely enjoy the MPC Expansion Electro Encounter, the sound packages by Random Sounds, Myloops and About Noise as well as the Retro Loops of Drums & Vibes. Finally, the sample package VCO Drums 1 impresses with unique drum sounds created with exquisite analog synthesizers.

The design and construction of the Pro 2, combined with analog oscillators based on the Pro One, makes the Pro 3 the most complex mono synthesizer ever. So we were excited to see how Dave Smith's new synth performs in a test.
The international magazine including software downloads is available from 4.99 EUR as single issue or via subscription at Zinio and Plugs & Samples. The German edition is available at Falke Media.
Giveaway
Beat is offering Rekkerd readers the chance to get this new issue for free! Simply leave a comment on this post for a chance to win one of 5 copies. Good luck!
More information: Beat