Wavesfactory has released the Effects Bundle, comprising all three of its audio effect plugins at a discounted price.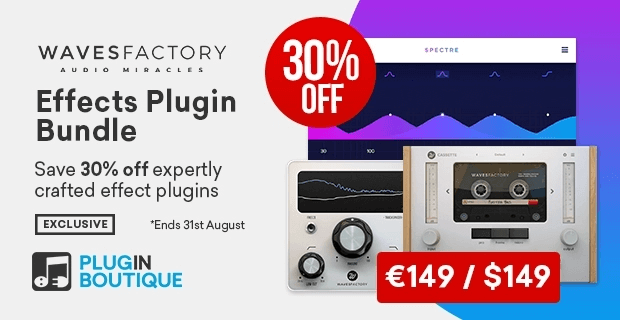 The bundle includes the TrackSpacer mixing tool, Spectre spectral enhancer, and the more recent Cassette tape emulation.
Cassette is an audio plugin that imparts the unique character and sonic imprint of an often maligned recording medium, one that offers a sound like nothing else. This is not a tape machine, this is a time machine.
The plugins have been updated as well.
TrackSpacer 2.5.7 fixes a crash in Logic 10.5.
Spectre 1.5.4 fixes a crash when reloading a project in Ableton Live, and dropdown menu parameters are now correctly recalled in FL Studio / VST3.
Cassette 1.0.4 also fixes a crash with Ableton Live, as well as a graphics CPU bug. Presets are now sorted in alphabetical order.
Additionally, all three plugins have received some general optimizations.
The Wavesfactory Effects Bundle is on sale at Plugin Boutique for $149 USD / 149 EUR until November 2nd, 2020 (regular 217 USD/EUR).
More information: Wavesfactory